Published: 07 December 2017

07 December 2017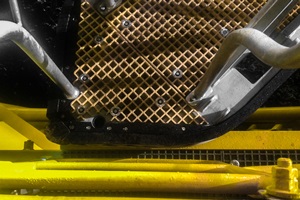 Seaway Heavy Lifting has awarded the EPCI contract to Ampelmann to design and create an angular boom tip. This will allow secure connection at difficult angles for safe gangway transfer between the 5,000 tonne heavy lift vessel (HLV) Oleg Strashnov and the 2,500 tonne HLV Stanislav Yudin to install 84 individual wind turbines for the Beatrice Offshore Windfarm Limited project.
Conventional gangway tips are rounded which can fit on the majority of offshore wind turbines or offshore assets. However, due to the size of the HLV, its close proximity to the jackets and the location of its access gates, Ampelmann custom-made the V-shaped tip at the end of the 25-metre gangway to give workers easy access to build and manage each new wind structure. The design, development and installation of the detachable tip took around two months and is deployed on the Beatrice project using the company's A-type motion compensated gangway system.