Published: 06 February 2017

06 February 2017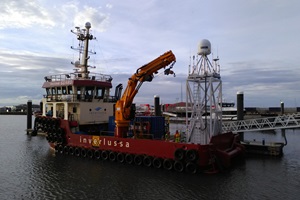 SeaRoc Group has provided their new communications and logistic data solution, SeaHub, for DONG Energy Wind Power, with its first deployment on the UK based Race Bank Offshore Wind Farm. The solution utilises SeaRoc Group's marine management software system, SeaPlanner and consists of containerised equipment for communications and logistical data sharing for far offshore projects.
On 10 July 2016 the solution became fully operational with communications and status updates being received in one of DONG´s operations & logistics centre over a satellite link. This data is integrated into SeaPlanner, providing real-time visibility of site activity, vessel and helicopter tracking as well as various people tracking features. The container also contains several autonomous safety systems including fire suppression, gas detection and temperature control, all of which are monitored using the SeaPlanner software.