Published: 04 October 2017

04 October 2017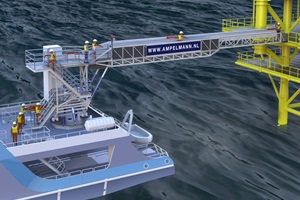 Ampelmann has announced an exclusive partnership with Seaqualize, a Dutch marine motion technology innovator, to collaborate on the development of its latest S-type gangway. Ampelmann latest gangway solution, the S-type, is designed specifically to be fully integrated into large, high speed vessels and dedicated to long-term crew change operations.
The S-type is designed to safely compensate the challenging motion characteristics of these vessels when in dynamic positioning (DP) alongside the platform. Part of the solution comes from the balanced heave compensation technology of Seaqualize. This technology engages the non-linear force of a gas spring to create an easily adjustable counterbalance, enabling balanced heave compensation.
The full scale prototype is funded by a subsidy of the Dutch Ministry of Economic Affairs through top sector energy. While targeted predominantly towards the crew change market the offshore wind market will also hold opportunity for this new generation of gangway. Production is due to start on the S-type in early 2018.