Published: 26 May 2020

26 May 2020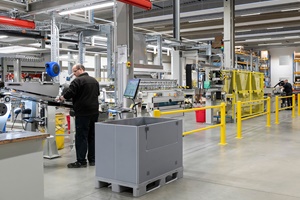 Continental is equipping the wind turbines made by Xinjiang Goldwind Science and Technology with drive belts. The belts allow the rotor blades to be adjusted at any time without the aid of gears or hydraulics.
The system is less complex and therefore less prone to vibrations and disturbances at the top of the nacelle. The belts are low-wear and durable, do not require any oil for lubrication and are very low-maintenance overall and also largely corrosion-resistant. The belt solution is based on Continental's Synchrodrive and Synchrochain technologies. Galvanized steel cords are integrated into the belt's interior and coated with polyurethane, which furnishes both the teeth and the back of the belt. For the fabric the company is making use of its Synchrochain technology. The fabric reduces wear and absorbs noise and also provides a much more stable structure for the timing belt. The fabric reinforces the teeth and improves run-in behaviour. Continental manufactures the belts for Goldwind at its Dannenberg (Germany) site, which is a competence center for the production of polyurethane belts within the company. The company installed a new facility for this very purpose last year.