Published: 13 June 2017

13 June 2017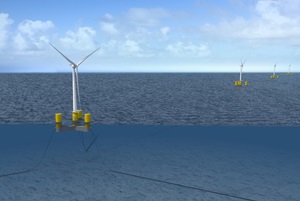 Bureau Veritas has issued a Preliminary Design Approval for a Floating Offshore Wind Turbine (FOWT) foundation designed by DCNS Energies. The floating foundation is based on a semi-submersible floater, designed to be adapted to mass production, easily towable, connectable and dis-connectable, and adaptable to site conditions & local industrial environments.
This approval was provided as part of the GE (ex-Alstom) and DCNS Energies Sea Reed project, a FOWT product development initiative supported by ADEME, the French Environment and Energy Management Agency. The design is feasible, achievable, and contains no technological show-stoppers that may prevent the design from being matured. Cooperation between Bureau Veritas and DCNS Energies in the floating offshore wind sector will continue to grow with a floating wind project planned to be deployed between the Groix and Belle-Ile Islands. The array will comprise four 6MW GE Haliade turbines, installed on a hybrid version (steel & concrete) of DCNS Energies floating foundations. Bureau Veritas has been awarded, for the entire project, certification of the floating wind array covering the different phases: site conditions assessment, design evaluation, manufacturing, transportation and commissioning surveillance. The units are expected to be operational in 2020.