Published: 14 May 2019

14 May 2019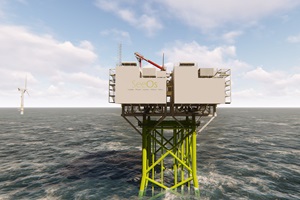 Atlantique Offshore Energy has received the Certification Report and Statement of Compliance from DNV-GL for its SeeOs Design. SeeOs (Scalable Efficient Evolutive Offshore Station) is a scalable solution for offshore stations.
Thanks to its modularity, it can accommodate any power requirement, from 200 to 1GW, and can be installed on monopile, jacket or floating foundations depending on the site. The base module design is a fully enclosed 200/300MW unit which accommodates any OEM MV GIS, Transformer, and HV GIS. Two or three of the base modules can be combined to meet any power requirement up to 900MW. In addition to scalability, SeeOs can also be customised to fulfill specific client preferences, maintenance strategies, local regulations requirements and installation site distance to shore.