Published: 15 May 2019

15 May 2019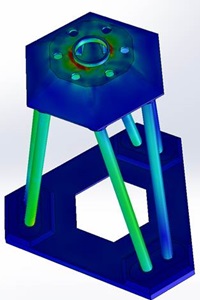 HR Wallingford is conducting a physical model testing for a new offshore wind foundation known as the Gravity Tripod. The company is working with Offshore Design Engineering (ODE), DNV-GL, Cambridge University and the Offshore Renewable Energy (ORE) Catapult to test and certify the new offshore wind foundation concept designed by Offshore Wind Logistics and Construction (OWLC).
Funded by the Department for Business, Energy and Industrial Strategy (BEIS), a wide-ranging team of renewables experts are taking the Gravity Tripod foundation though a series of stages, with certification from DNV, in preparation for demonstration of the design with an prototype structure. Design work and optimisation will be undertaken by ODE, with testing of the physical components conducted by ORE Catapult. Cambridge University will conduct geotechnical sediment modelling, looking at the interaction between the structure and sea bed. HR Wallingford will conduct extensive physical model testing to investigate the loads applied to the structure during installation, those caused by exposure to large waves once the foundation is in place, and to determine the amount of erosion (scour) that may develop around the base of the structure if left unprotected.