Published: 25 August 2022

25 August 2022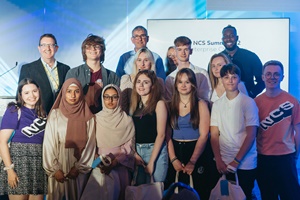 North East teenagers taking part in the summer NCS programme have harnessed their creativity to come up with innovative concepts to encourage more women to join the growing offshore wind energy sector.

NCS (National Citizen Service) teamed up with RWE, the energy company behind Sofia Offshore Wind Farm, to create a real-world enterprise challenge that asked more than 1600 participants to create campaigns to improve the gender balance in the sector which at present has only 18% women.

For RWE, it provided the perfect opportunity to seek valuable insights and advice from many of the young people who may join their workforce in years to come. While for the 16 to 17 year olds, who took part during their summer holidays, it gave them a chance to work creatively, develop their presentation skills and start to mould their future career ambitions.

Resulting concepts ranged from an offshore wind Barbie and a Love Island pastiche to a touring bus and use of historical role models. The communications team at RWE will review the young people's ideas and look to incorporate them into potential future awareness campaigns.

During the challenge, the campaign presentations were peer-reviewed and then judged by RWE experts with three finalist teams invited to a grand finale event at Ramside Hall, County Durham this week.

The winning entry came from a team of teenagers from South Tyneside who picked up the main accolade for their campaign that aimed to tackle gender stereotypes using social media trends on TikTok and education outreach. Judges praised the team for their 'finger down' TikTok campaign that demonstrated barriers young women might encounter when it comes to entering sectors such as the offshore wind. The team had also developed lesson plans for an education programme to encourage more girls to consider a career within the industry.

Highly commended runners up from Gateshead and Stockton-on-Tees received praise from judges for their respective animated advertising campaign based on powerful women in history and a social media celebrity endorsement campaign combined with a multi-level education programme.

The judges felt the winning entries could really support industry ambitions to increase the number of women to 40% by 2030, by highlighting the wide number of roles available, and types of skills required and by raising awareness of the opportunities in general.