Published: 14 June 2023

14 June 2023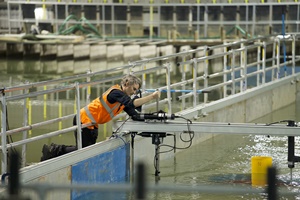 The first tests forming part of collaborative research to support offshore wind to expand in a sustainable way have been completed by Bangor University and HR Wallingford.
The results will be combined with research by other ECOWind-ACCELERATE project partners to evaluate how future wind turbine bases can have a positive impact on marine ecosystems.
The tests in HR Wallingford's physical modelling hall are the first step in understanding the relationship between flow around wind turbines, and the impact on seabed, seabed animals, and the seabirds which feed on them. The ultimate aim of the project is to make the most of the opportunity from wind farm growth to ensure that seabed changes lead to biodiversity gain.
The flume laboratory tests, using 1:20 scale models of the wind turbine monopiles in a huge water tank, focused on investigating how current flows change when a monopile is installed, leading to sediment moving and the seabed being re-sculpted. The HR Wallingford team is now using the data collected to validate and develop numerical models, enabling scientists to assess the changes to the seabed from a whole farm of wind turbines.
The ECOWind-ACCELERATE project will also draw on existing and new field data. The organisations developing the seabed in the Eastern Irish sea are sharing data and their expertise, and Bangor University will use its research vessels to make new observations of how the seabed has changed in the last 10-20 years inside and outside wind farms.
Other partners in the project – which include the University of Liverpool, the Joint Nature Conservation Committee, the Royal Society for the Protection of Birds and the Royal Netherlands Institute for Sea Research – will bring expertise on marine habitats, seabed animals and seabirds to help understand and model future relationships between them inside and outside windfarms.
ECOWind-ACCELERATE is funded by the Natural Environment Research Council and the Crown Estate, with support from the Department for Environment, Food and Rural Affairs.