Published: 16 August 2023

16 August 2023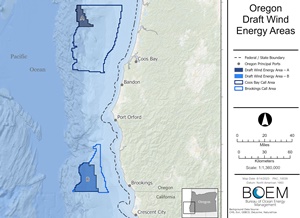 The Bureau of Ocean Energy Management (BOEM) has identified two draft Wind Energy Areas (WEAs) off the coast of Oregon and opened a 60-day public review and comment period on those WEAs.
The draft WEAs cover approximately 219,568 acres offshore southern Oregon with their closest points ranging from approximately 18 – 32 miles off the coast. Public input from this new comment period will be considered before formally designating final WEAs off the coast of Oregon.