Published: 03 May 2022

03 May 2022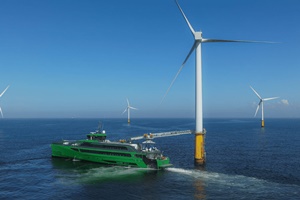 Damen Shipyards and Ampelmann have established the joint venture OceanXpress to provide offshore crew change solutions in The North Sea area.
This collaboration will see the introduction of a new service to the offshore access market that combines Damen's Fast Crew Supplier (FCS) 7011 'Aqua Helix' vessel with the S-type motion compensated gangway system from Ampelmann. Damen and Ampelmann will provide full logistical support to the operations of 'Aqua Helix' and the S-type as a fully integrated crew supply solution for clients in the North Sea energy market. Crew from Wagenborg Offshore will navigate the vessel along platforms. The vessel can transport up to 120 people at once and the height adjustable gangway will facilitate crew changes to and from 'Aqua Helix', allowing it to service multiple offshore installations during its tour.