Published: 18 April 2023

18 April 2023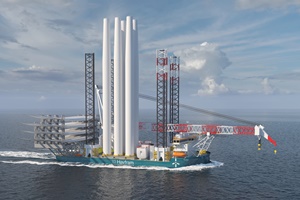 Havfram Wind has ordered a second Wind Turbine Installation Vessel (WTIV). The order represents the first optional vessel in the existing shipbuilding contract with CIMC Raffles, and the vessel design will be similar to the first GustoMSC NG20000X Jack-Up vessel currently under construction.
The latest battery hybrid drive train technology is incorporated in the design to reduce carbon emissions per installed megawatts (MW) of offshore wind capacity. The NG20000X vessel has the capability of installing offshore wind turbines with a rotor diameter of more than 300 meters, as well as XXL monopiles weighing up to 3,000 tons at water depths of up to 70 meters. The crane has a lifting capacity of 3,250 tons. Delivery will be late Q4, 2025.