Published: 21 April 2023

21 April 2023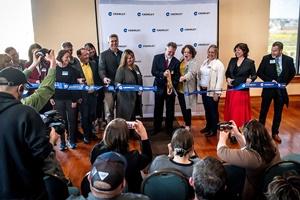 Crowley has opened its first Wind Services office on the US West Coast in Eureka, California, USA. The new office advances the partnership with the community to develop a terminal to serve as the West Coast's first hub for offshore wind energy installation at the Port of Humboldt Bay.
Crowley reached an
agreement
with the Port of Humboldt Bay to exclusively negotiate to build and operate the terminal. Services at the Humboldt Bay Offshore Wind Heavy Lift Marine Terminal will support tenants in the manufacturing, installation and operation of offshore wind floating platforms, the use of large heavy cargo vessels and provide crewing and marshalling services in the Pacific waters.