Published: 10 May 2023

10 May 2023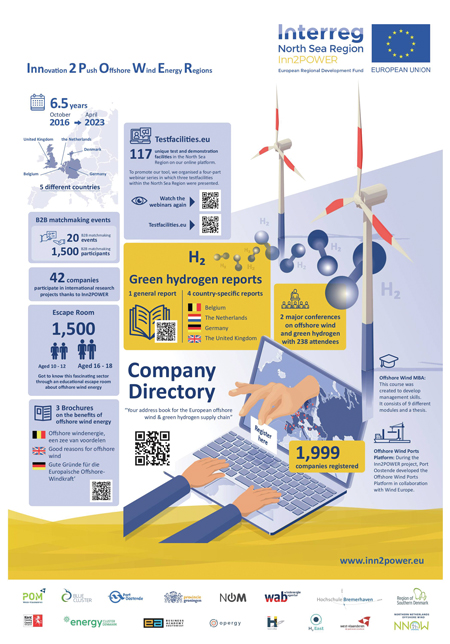 Inn2POWER Helped 1,999 SMEs Expand Into Interregional Markets
The Inn2POWER project, launched in 2016, is a transnational collaboration between 13 project partners from five European countries. The project connects offshore wind and green hydrogen companies in the North Sea region to help realise the ambitious European expansion targets for offshore wind energy by building interregional value chains. The partners explain: 'Through this cooperation, we have been able to provide important drive at the interregional level so that the required levels of growth and capacity for offshore wind energy can be realised under the condition of building interregional value chains.'
Thanks to the project, small to medium-sized enterprises (SMEs) in the North Sea region have benefited from cooperation and the development of new markets through an interactive online directory that focuses on the offshore wind sector and green hydrogen. The directory provides an opportunity for companies to present their skills, innovative products and services to a large international network, while also finding new suppliers, partners and customers. Currently, 1,999 companies across the North Sea region use these 'yellow pages'.
The Inn2POWER project has also created an online address book of international test facilities for the offshore wind industry. Access to test facilities is an important building block for the planning of offshore wind projects, especially in the still young industry where new solutions for technology, operations and logistics need to be established. Four country-specific hydrogen reports for Belgium, the Netherlands, Germany and the UK and one general report have been produced.
Qualification, training and employee recruitment are significant challenges for many SMEs due to their size and geographical location, complex procurement processes and high costs.
The transnational cooperation aims to communicate the development status of the industry and its potential transparently and effectively to politicians, business, administration and science. This is achieved through Inn2POWER's participation in established trade fairs and its own event formats. The German Inland Campaign as part of the Inn2POWER project has so far reached around one million German media users, increasing the visibility of the nationwide value chain of the offshore wind industry.
The Inn2POWER project is supported by the European Union's European Regional Development Fund, Interreg North Sea Region Programme. Inn2POWER is a project that combines the forces of nine partners in four countries of the North Sea region.