Published: 21 September 2020

21 September 2020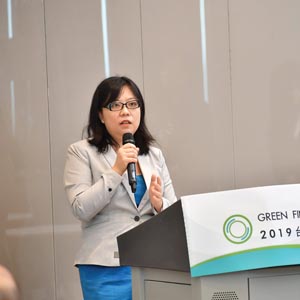 With the upcoming Round 3 Offshore Wind Auction framework, the Global Wind Energy Council expects Taiwan will surpass 10GW of offshore wind capacity by the end of 2030, but the flexibility of localisation requirements will be vital in determining whether the nascent offshore wind industry realises its ambition and potential to become a sustainable and competitive offshore wind export hub for the region.
By Liming Qiao, Asia Director, Global Wind Energy Council Asia
Taiwan's impressive offshore wind growth has been widely recognised, driven by the need to retire polluting coal plants and a vision for a 'green economy'. An open investment environment and ambitious capacity targets set by the government of 15.5GW by 2035 have attracted significant interest from leading offshore wind developers and technology providers. Already, 128MW of offshore capacity has been installed at Formosa 1, Taiwan's first commercial-scale offshore wind farm in Miaoli County, and a further 109MW is due to come online by the end of 2020.
Critical to the steady progression of the market will be the government's localisation strategy of the Round 3 selection process. According to Global Wind Energy Council (GWEC) Market Intelligence, strict localisation content requirements (LCRs) put the industry at risk and undermine the cost savings of NT$ 394 billion (US$ 13.2 billion) that could be achieved across the 10GW of installations from 2026 to 2035. This move is expected to stifle innovation and disincentivise foreign companies to transfer their knowledge and skills into a growing supply chain in Taiwan, which could range from turbine components to submarine cables to shipbuilding.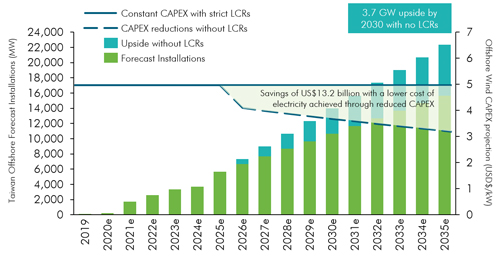 Since early April 2020, GWEC has been engaged with our members to form an industry alliance to address these conflicting paradigms of development between cost reduction and local content requirements. This has led to meetings with Taiwan's government to discuss how stringent local content requirements, combined with insufficient capacity due to the staged auction approach, would stall the offshore wind market and limit sustainable growth opportunities.
While strict LCRs would be detrimental to the development of Taiwan's offshore wind supply chain, this does not mean that significant local industrial opportunities do not exist. Due to the scale of project logistics and to increase cost-efficiency, offshore wind naturally already offers a high degree of localisation opportunities. In 2020, positive signs have already been seen by announcements such as an MHI Vestas–Tien Li blade manufacturing facility in Taichung, a Siemens Gamesa Renewable Energy nacelle production facility in Taichung and Copenhagen Infrastructure Partners' partnership with two Taiwanese companies to build an offshore wind farm operations and maintenance base in Changhua County.
Based on lessons learned from Europe's offshore wind developments, we have observed a trend whereby over-restrictive local content requirements tend to go against the original intention of creating a localised supply chain and ultimately slow down a growing offshore industry.
In particular, for a new to mid-stage offshore wind market like Taiwan, which may lack experienced and cost-effective local talent, facilities and infrastructure, a well-balanced local content requirement is critical to establish Taiwan's industrial competitiveness in the long run and deliver on its offshore wind targets.
All in all, Taiwan's localisation strategy must be fit to drive down costs, create jobs and facilitate the integration of domestic companies into international supply chains, creating a healthy and consistent pipeline of projects that gives long-term security to the offshore wind industry to set up shop in Taiwan. This will be key to increase competition and capacity to sustain the growth of the offshore wind industry in Taiwan and can position this booming market as an important export hub for Asia's growing offshore wind industry.