Published: 31 May 2016

31 May 2016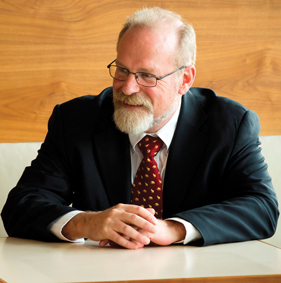 The year 2015 was a stellar year for the wind industry and for the energy revolution, culminating with the landmark Paris Agreement in December. In an all too rare triumph of multilateralism, 186 governments have finally agreed on where we need to get to in order to protect the climate for future generations. Now the question is whether or not they're going to take the actions in the short and medium term to get us there.
By Steve Sawyer, GWEC Secretary General
Wind power had yet another record-breaking year with annual installations topping 63GW, up 22% from 2014. By the end of 2015, there were about 433GW of wind spinning around the globe, a cumulative 17% increase, and wind power supplied more new power generation than any other technology in 2015, according to the International Energy Agency (IEA).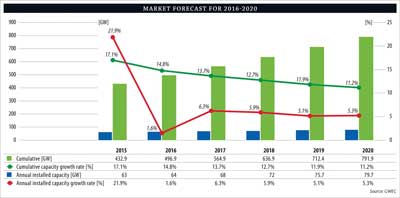 In our Global Wind Report, we look for another 60GW+ year in 2016, and then modest growth over the rest of the period out to 2020, ending up with 792GW installed by the end of 2020.

Looking ahead, we see a period of steady growth. Asia will continue to lead, and Europe will move steadily towards its 2020 targets, although there may be some bumps in the road. In North America, both Canada and the USA seem poised for another round of growth, and as Mexico's energy reform gets bedded down we should be looking at a period of rapid development in that newly liberalised market.

In Latin America, Brazil will continue to lead, although Chile, Peru, Uruguay and now Argentina will make a contribution. In Africa and the Middle East, besides market leader South Africa, both Morocco and Egypt seem poised for solid growth in the next five years, and smaller markets in Kenya, Ethiopia and elsewhere are moving. All told, wind capacity should nearly double in the next five years.

Wind power is now mainstream, supplying competitive, reliable and clean energy to fuel economic growth, and to cut emissions in established economies, while at the same time creating new jobs and new industries and enhancing energy security.

About GWEC
The Global Wind Energy Council (GWEC) is the global trade association representing the wind industry. GWEC works at the highest international political level to create a better policy environment for wind power. GWEC's mission is to ensure that wind power establishes itself as the answer to today's energy challenges, providing substantial environmental and economic benefits.

About the Global Wind Report
GWEC's Global Wind Report on the status of the global wind industry is the authoritative source of information on wind power markets around the world. The report gives a comprehensive snapshot of the global wind industry now present in more than 80 countries, 26 of which have more than 1GW installed, and eight with more than 10GW. This year's edition features insights to the most important wind power markets worldwide, future trends with five-year projections out to 2020, a preface from IEA's Dr Fatih Birol, an update on global offshore wind and much more.