Published: 15 September 2022

15 September 2022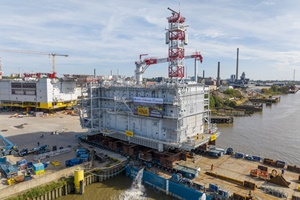 From Equans' fabrication hall in Antwerp, Belgium, the topside for TenneT's Hollandse Kust (north) transformer platform has been placed on a floating barge in the port. Following the load out, the over 3,500-tonne steel structure will be secured and prepared for transport to its final workplace at sea in the coming weeks.
During the load out, the topside for 'North' was moved on self-propelled trailers (SMTPs). The special transport drove from the quay onto a floating barge. After this load out, everything will be prepared in the coming weeks for the sail away, which will take place in late September/early October. After a two-day sea voyage, the topside will then be installed 18.5 kilometres off the coast of Egmond aan Zee, The Netherlands. There, the undercarriage (jacket) has already been anchored to the seabed since November last year. With the help of the installation vessel Orion, the topside of 47 metres long, 35 metres wide and 25 metres high will be placed on the undercarriage and then welded in place.