Published: 15 September 2022

15 September 2022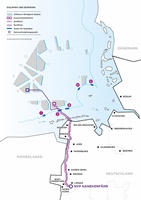 Amprion Offshore GmbH has awarded Prysmian Powerlink to supply and install the cable systems for the DolWin4 and BorWin4 offshore grid connection systems.
The contract, worth a total of more than €800 million including options, includes approximately 1,000 kilometers of HVDC submarine and land cables. DolWin4 and BorWin4 are scheduled to go into operation in 2028 and 2029. From the North Sea wind farms, the cables will initially run 60 and 125 kilometers at sea. They cross below the island of Norderney and reach the coast in the Hilgenriedersiel. From there, they run for around 155 kilometers as underground cables toward the Hanekenfähr substation in Lingen (Ems), where Amprion will connect them to its transmission network. There, the Emsland nuclear power plant will be taken off the grid at the end of 2022. The generation capacity will be replaced by 1.8 gigawatts of offshore wind energy via DolWin4 and BorWin4.