Published: 31 August 2022

31 August 2022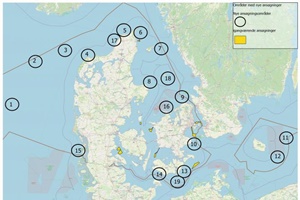 The Danish Energy Agency has received 47 applications for offshore wind farms through the so-called open door scheme, of which 16 have been rejected due to overlap with state land reservations. A number of applications are for very large offshore wind projects with a capacity of over 1GW each, several of which are located far from the coast.
The Danish Energy Agency will now send a further six applications for regulatory hearings.The applications are located at areas 1-3, 7, 11 and 12, cf. map. Due to the nature of the projects in terms of size and, in several cases, distance to the coast, the Danish Energy Agency has investigated whether the applications are covered by the rules for the open door scheme. The Danish Energy Agency has now assessed that this is the case. The board will therefore proceed with the substantive processing of the applications, which includes, among other things, hearings with the authorities.
The final decision on whether a feasibility study permit can be granted for a project will depend on a concrete assessment in which a number of different conditions will be included, including considerations for the environment, nature, safety, shipping, fishing, or planning considerations in relation to the total expansion of offshore wind turbines, the extent of wind resources, as well as considerations for the overall grid planning, etc. If an application process ends with a preliminary study permit being granted, this does not imply that permission is given to set up offshore wind turbines at the given location, but only that the necessary studies for the project can be carried out.