Published: 29 August 2023

29 August 2023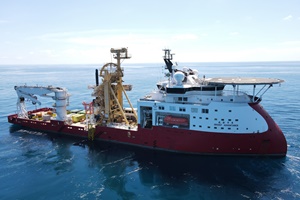 Huisman has signed a Letter of Intent (LOI) with Dong Fang Offshore (DFO) for the delivery of a cable carousel and the option for a complementary cable-lay system.
Initially, the cable carousel will be installed on the pipelay vessel Orient Adventurer. Together with the existing Huisman Vertical-Lay System, the carousel will be deployed for subsea cable-laying projects in fixed and floating offshore wind. The cable carousel has a storage capacity of 3,000 mt and will be positioned below deck. Delivery is scheduled for the first half of 2024. Furthermore, DFO has expressed its intention to order a horizontal Huisman Cable-Lay System. This brand-new cable-laying concept was specifically developed by Huisman to be temporarily installed on, for example, a multi-purpose offshore vessel.