Published: 24 August 2023

24 August 2023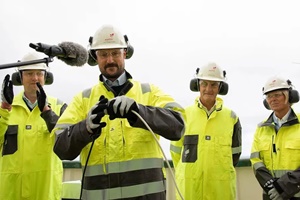 The Hywind Tampen floating offshore wind farm has been opened by Crown Prince Haakon of Norway. Gullfaks and Snorre are the first oil and gas fields in the world to receive power from offshore wind.
The wind farm consists of 11 wind turbines based on the floating Hywind concept, developed by Equinor. Hywind Tampen has a system capacity of 88 MW and is expected to cover about 35 per cent of the annual need for electricity on the five platforms Snorre A and B and Gullfaks A, B and C. The wind farm is managed from Equinor's office location in Bergen. The investment forecast for the project is now about NOK 7.4 billion. When the plan for development and operation was submitted, the development cost was estimated at about NOK 5 billion. The increase is due to a combination of COVID-related costs, delayed deliveries, quality issues with some deliveries and knock-on effects. In addition, increased market prices, currency effects and supplier compensation for COVID-19 effects have contributed.