Published: 29 November 2021

29 November 2021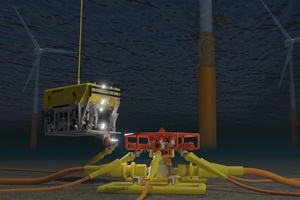 Seanovent Engineering and Strohm have entered a memorandum of understanding (MOU) to collaborate on offshore wind-to-hydrogen developments. The partnership will focus on developing safe and dependable hydrogen transfer solutions which enable and improve the distributed green hydrogen concept, whereby green hydrogen is generated in each wind turbine generator and transported to shore via a subsea pipe infrastructure.
Strohm is manufacturer of Thermoplastic Composite Pipe (TCP). With no maintenance requirements and suitable for more than 30 years in operation, its technology is suitable for carrying pressurised hydrogen offshore and subsea. TCP is agnostic to fluids, including hydrogen, and does not suffer from fatigue and embrittlement. Seanovent Engineering is an engineering supplier that specialises in subsea infrastructure.