Published: 18 October 2022

18 October 2022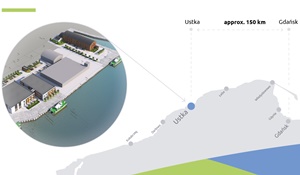 An operation and maintenance base for the PGE Group's offshore wind farms and the Competence Center for Offshore Wind Energy will be built in the Ustka harbour on the Poland's Baltic Sea coast, about 150 km west of Gdańsk. PGE Baltica, which implements the PGE Group's offshore program, presented plans for the development of port areas for the needs of its offshore projects.
Specialists will be working in the O&M base on a continuous basis - 24 hours a day, seven days a week. They will monitor the operation of offshore wind farms and the condition of installations located at sea and on land. The base will host technical facilities and storage space for service crews. It will include, among others warehouse for spare parts and tools necessary for servicing offshore wind farms, arranged wharf for docking vessels, as well as office space. The base will also coordinate emergency and routine service work.
An Offshore Wind Energy Competence Center will also be built in the port of Ustka. Future offshore specialists will be able to acquire training necessary to work in the maintenance of infrastructure and development of offshore wind farms. The first construction works in the Ustka harbour will begin in 2024. The O&M center will start operating in 2026.