Published: 06 January 2022

06 January 2022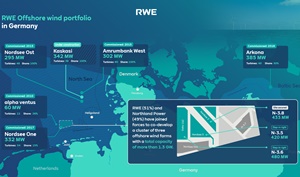 RWE and Northland Power have joined forces to co-develop a 1.3GW cluster of offshore wind farms in the German North Sea. The partners have established a joint venture structure through which they plan to jointly develop and construct three wind farms, which are all expected to start commercial operation between 2026 and 2028.
RWE Renewables will hold 51% and Northland Power 49% of the shares in the new Joint Venture. The new offshore wind cluster includes a total of three offshore wind leases, which are located north of the island of Juist. One offshore site (N-3.8) with a capacity of 433MW was already secured by the partners in the latest German offshore wind auction. The other two leases will add a further 900MW of capacity and are expected to be auctioned in 2023. For both sites the Joint Venture holds step-in rights.
To form the new North Sea Cluster, Northland Power joins RWE in the development of the offshore site N-3.6 (previously known as Delta Nordsee 1&2), which has a planned capacity of 480MW. At the same time, RWE takes a larger share, a 51% stake compared to the previous 15%, in the 433MW site N-3.8 (previously known as Nordsee 2) and the 420MW offshore lease N-3.5 (previously known as Nordsee 3). The cluster will be in close proximity to the existing 332MW Nordsee One wind farm in which Northland and RWE are partners already.