Published: 03 January 2023

03 January 2023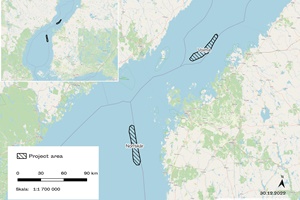 The Ministry of Economic Affairs and Employment (TEM) has granted Ilmatar Offshore a research permit for two areas in Finland's exclusive economic zone (EEZ). The areas cover approximately 700 square kilometers in total.
The granted permit applies to two areas, one of which is located approximately 30 kilometers from Jakobstad and the other approximately 70 kilometers southwest of Vaasa. Ilmatar Offshore has previously announced that these projects have been temporarily suspended. However, after the granting of the research permit, the development will now continue and these areas are given an official project status. The projects have been named 'Voima' and 'Norrskär' and the areas cover 323 and 389 square kilometres, respectively. It is too early to predict the number of turbines and the installed capacity.