Published: 03 January 2023

03 January 2023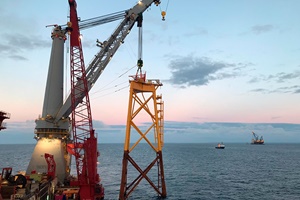 Iberdrola is progressing according to plan in the construction project in the waters off Brittany in France for the Saint-Brieuc offshore wind farm. The company has completed the first campaign of the works with the installation of 65% of the piles and 40% of the offshore wind platforms of the plant. These elements have been manufactured at Windar's facilities in Avilés and Navantia's in Fene, respectively.
In total, 124 piles have already been installed, which will anchor the substation and 40 of the 62 wind turbines of the wind farm to the seabed. These cylindrical pieces of steel, eache 2.6 meters in diameter and weighing 150 tonnes, are between 18 and 47 meters long. On them are fitted, with milimetre precision, each of the three-legged platforms that will support the turbines.
During this first phase, which has just been completed, the installation of 24 of these platforms has also been completed (about 40% of the total planned). These triangular-based foundations are up to 75 meters high, 25 meters wide and weigh 1,150 tonnes. They are assembled in three stages. The first stage consists of lifting the structure from a transport barge and placing it on site with a crane. During the second stage, the three legs of the frame are inserted into the piles previously fixed to the seabed, ready for the subsequent sealing of the lower parts of the legs.
During the month of January, the project will continue with the installation of the cabling between wind turbines, depending on weather conditions. In mid-January 2023, work is scheduled to begin on laying the wind farm's interconnection cable. In total, 90 kilometers of 66 kV high-voltage alternating current interconnection cables will be commissioned.
Drilling and pile installation work will resume in the first quarter, when anchoring of the remaining 66 piles will begin. In the second half of the year, work on the offshore wind platforms will resume and the assembly of the wind turbines will begin.