Published: 10 January 2022

10 January 2022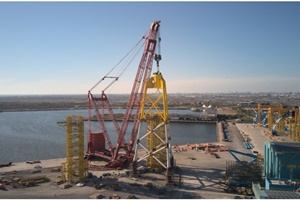 The Greater Changhua 1 and 2a Offshore Wind Farms are located approximately 35km-60km off the coast of Taiwan's Changhua County. Mammoet-Giant Taiwan joint venture has supported construction of these wind farms by providing a range of engineering and design services, as well as assisting with the transport and integration of the jackets, ready for load-out.
Jacket foundations for the Greater Changhua 1 & 2a Offshore Wind Farms are comprised of upper and lower jackets. These upper and lower jackets were sat on top of the custom support saddles – designed by Mammoet-Giant engineers – which were used on the self-propelled modular transporters (SPMTs) to transport both upper and lower pieces between assembly stations.
The upper jackets – weighing 270t - were transported in turn around 100m from the storage area to using a Mammoet PTC210-DS ring crane, where they were erected so that the transition pieces could be fitted. A 750t crawler crane was used for the upending operation. The lower jacket – weighing between 600t and 700t - were then also transported to the ring crane's location and erected in a similar fashion. Then the upper jackets, now fitted with transition pieces, were lifted by the PTC and mounted on the lower jackets. Finally, the completed jacket structures were lowered onto the SPMT/saddle combinations for transport to a storage area at the facility.