Published: 29 June 2020

29 June 2020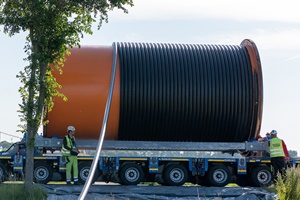 NKT has been awarded an order by TenneT and TransnetBW for the supply and installation of a 525 kV XLPE high-voltage DC (direct current) onshore cable system with a route length of approximately 750 km for the German SuedLink corridor.

The SuedLink corridor comprises two power cable systems, and NKT has been awarded the 2GW cable link. The SuedLink line starts in Northern Germany where it connects to power from offshore wind farms and to the Nordlink interconnector, which brings hydro power from Norway to Germany via a 525 kV high-voltage DC offshore power cable. NKT expects to start production early 2022 on its plants in Cologne, Germany and in Karlskrona, Sweden with expected project completion in 2026.
SuedLink is one of three long-distance high-voltage DC power transmission lines in Germany to transport renewable energy from the Northern parts of the country to the South, and it links the federal states of Schleswig-Holstein and Baden-Württemberg.