Published: 19 May 2021

19 May 2021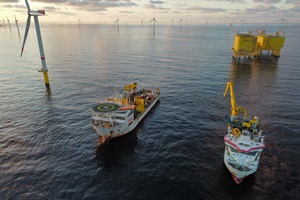 TenneT engaged Jan De Nul Group for the repair of a cable fault located within the 500-meter zone around the DolWin alpha platform, 75 kilometers off the German coast north of the island Borkum. This offshore platform connects three wind farms in the German North Sea to the German extra-high voltage grid.
For this repair job, Jan De Nul mobilised its Cable-Laying Vessel Isaac Newton and Multi-Purpose Vessel Adhémar de Saint-Venant. First, the Adhémar de Saint-Venant deburied the damaged cable section, including its cable protection system which was buried under large armour rock. The Isaac Newton loaded the spare cable and repair joint in Emden, recovered the damaged cable section offshore and subsequently installed the new cable and joint. Jan De Nul's jet-trenching vehicle PT1, installed on-board the Isaac Newton, completed the repair campaign by burying the new cable section 1.5 meters below the seabed.