Published: 17 May 2022

17 May 2022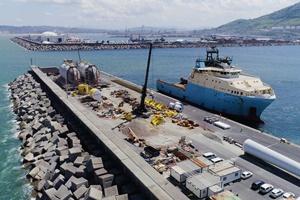 Maersk Supply Service has completed the installation of six mooring lines (comprised by hybrid lines of chain and fibre rope) and six drag anchors with Maersk Mariner.
The mobilisation and loading of the mooring lines elements and preparation of the vessel was done at Punta Sollana quay, in the port of Bilbao (Spain), where the onshore construction of the floater is currently underway.

Once loaded, the vessel left the Port towards the installation site at BiMEP test area where the elements' connection and laying took place. The lines will be recovered from the seabed for a plug and play connection to the unit later this year.
Meanwhile, the onshore construction of the prestressed concrete floating platform continues at the Port of Bilbao. Works on the transition piece, single point mooring and boat landing are also carried out as well as installation works inside the floaters. This will be followed by the launching operation to put afloat the platform that will be then transported to its final deployment site at BIMEP. The 2MW unit will be tested against real sea operating conditions in a harsh Atlantic environment. The test field at BiMEP facilities are located 2 miles off the Biscay coast where the sea is 85 meters deep.