Published: 12 May 2023

12 May 2023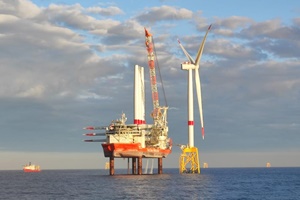 The installation of the first of 62 wind turbines equipping the Saint-Brieuc wind farm was carried out on 11th May by Siemens Gamesa Renewable Energy, contractor of Iberdrola. This operation was carried out from the jack-up vessel Brave Tern of the Norwegian company Fred Olsen windcarrier.
The first wind turbine of the Saint-Brieuc wind farm was installed on position number SB44, located on the northern part of the site. The installation vessel Brave Tern will carry out several iterations in the coming months from Le Havre, each time with the constituent elements of 4 wind turbines on board.
The wind turbines of the Saint-Brieuc wind farm are being manufactured in France, on the industrial site of Siemens Gamesa Renewable Energy, located on the port of Le Havre. The towers of the 62 wind turbines were previously equipped by the company Haizea Wind on the Brest polder. At sea, the 90-meter-high tower of the wind turbine is first raised from the barge and then lowered by crane onto the transition piece of the jacket foundation, before being fixed. In a second step, the nacelle is lifted and installed on the tower. Finally, the 3 blades are fixed to the rotor.
The structure installed at sea has 209 meters at the tip of the blade and the rotor is 167 meters in diameter.