Published: 11 June 2021

11 June 2021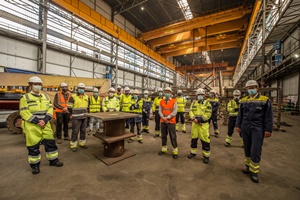 At the Smulders' facility in Hoboken, Belgium, the joint venture Engie Solutions – Iemants (subsidiary of Smulders) and TenneT started the cutting of the first steel for the topside of the offshore transformer station for the Hollandse Kust (west Alpha) wind farm zone.
The pieces that were cut (nodes and plate girders) are the first building blocks for the topside. Steel fabrication will now continue at the Smulders' facilities in Arendonk, Balen and Hoboken. Assembly of the topside will start at the Smulders' facilities in July 2021 after which the topside deck sections will be transferred to the Engie Solutions yard in Hoboken for installation of all the auxiliary systems and the integration of the free issued medium & high voltage equipment starting in the fourth quarter of 2021. The final outfitting, commissioning and testing will take place from March 2022 until sail away in the summer of 2023, after which the topside will be installed offshore. The transformer substation for Hollandse Kust (west Alpha) is scheduled to be fully offshore commissioned in the third quarter of 2023.