Published: 03 October 2022

03 October 2022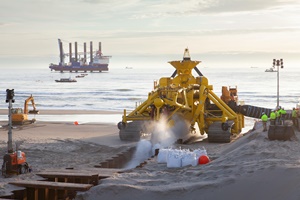 Contractor Jan de Nul's intertidal trenching vehicle Moonfish has returned to Heemskerk beach (The Netherlands) to bury TenneT's last sea cables. These cables are intended for the connection of the Hollandse Kust wind farm (west Alpha), to be built 50 kilometres off the coast of Egmond aan Zee.
Meanwhile, all four sea cables have been pulled in under the dunes by contractor Jan de Nul. The first two cables for Hollandse Kust (noord) are already up to the socket at a safe depth in the seabed. Once the Moonfish returns to work, it will first bury cable number four, intended for Hollandse Kust (west Alpha), in the beach and seabed. This will be followed by the remainder of cable number three, which has already been partially buried.
When the weather and the tide is good (no waves bigger than 1 meter), the cable will be loaded into the Moonfish and the vehicle will be coupled to the floating water pipe. The floating water pipe will pump water to the powerful water jets on the Moonfish's long sword. With these, it makes an eight-metre-deep trench in the seabed into which it immediately lays the cable. The trench is then immediately closed. Once the cable is at depth in the Heemskerk beach, the receiving pit is removed and refilled with sand. The Moonfish then buries the cable to a distance of three kilometres off the coast. There, the subsea vehicle UTV1200 takes over the job until it reaches the 'socket at sea'. This TenneT substation is located 50 kilometres off the coast of Egmond aan Zee. On this part of the route, the cable is less deep; at about 2.5 - 3 metres. This process will be repeated later for the last cable.