Published: 28 September 2023

28 September 2023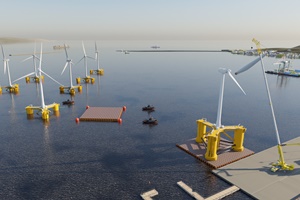 Salamander Offshore Wind has engaged with Tugdock to discuss opportunities to collaborate in research and innovation related to the development of technologies and supply chain for floating wind energy in Scotland.
Tugdock is a company based in Cornwall UK and its technology consists of a modular road transportable space frame with the use of patented air lift bags that are filled and then vented using compressed air. By confining the air lift bags into a space frame configuration and deck arrangement, their product can be used as additional buoyancy modules or submersible platforms. This technology enables floating offshore wind turbine substructures to be built or assembled and the turbines integrated in ports with water depth or space restrictions.
Salamander Offshore Wind is a joint venture development project between Simply Blue Group, Ørsted and Subsea7 and will be located offshore from Peterhead in North-East Scotland. Salamander Offshore Wind has signed an exclusivity agreement as part of Crown Estate Scotland's Innovation and Targeted Oil and Gas (INTOG) leasing round.