Published: 06 October 2021

06 October 2021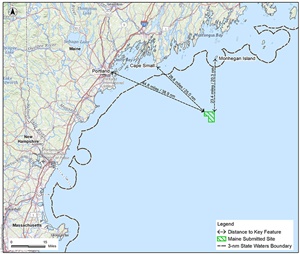 Maine's Governor's Energy Office (GEO) has submitted an application to the Bureau of Ocean Energy Management (BOEM) to lease a 15.2-square-mile area nearly 30 miles offshore in the Gulf of Maine for a floating offshore wind research site in federal waters.

The State hopes to deploy a small-scale research array of 12 or fewer wind turbines on floating hulls designed at the University of Maine. For more than a decade, the University of Maine has pioneered design and development of floating concrete hull technology for offshore wind turbines called VolturnUS.
The area of the research site is limited to 15.2 square miles, which is smaller than initial projections and which represents approximately .04 percent of the 36,000-square-mile Gulf of Maine. This limited site is 29 miles from the nearest mainland point of Cape Small in Sagadahoc County, 23 miles from Monhegan, and 45 miles from Portland. It was selected following a public outreach process led by GEO, which included an analysis by the Maine Department of Marine Resources (PDF) that helped identify areas that minimized known potential impacts on the fishing industry.
There is no specific timeline required for the application review by BOEM, which is separate process from the State's work to date, but it is expected to take several years before all permitting is secured and construction could begin.