Published: 05 October 2022

05 October 2022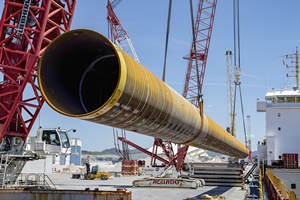 deugro, in collaboration with dteq Transport Engineering Solutions (dteq), delivered eight pin piles from Bilbao, Spain to Vlissingen, Netherlands as part of the Baltic Eagle offshore wind farm project.
The 77-meter-long pin piles, with a weight of over 270 metric tons each and a diameter of 2.4 meters, are manufactured by Haizea Bilbao. Iberdrola is constructing the 476 MW Baltic Eagle offshore wind farm 28 kilometers northeast of the German island of Rügen in the Mecklenburg-West Pomerania region of the Baltic Sea. The final delivery and installation of the wind turbines will complete the construction phase and are scheduled for the first quarter of 2024.