Published: 06 October 2021

06 October 2021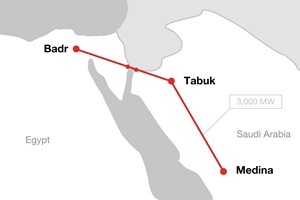 Hitachi ABB Power Grids has announced that it is the lead in a consortium that has been awarded a contract from the Saudi Electricity Company and the Egyptian Electricity Transmission Company.
The award is for a HVDC interconnection enabling the Kingdom of Saudi Arabia (KSA) and the Arab Republic of Egypt to exchange up to 3,000MW of electricity, much of which is expected to be generated from renewable energy sources in the future. The contract includes the supply of three HVDC converter stations located at Medina and Tabuk in KSA, and Badr in Egypt. The company will also be providing system studies, design and engineering, transformers, valves, high-voltage equipment, technical advisory, commissioning and service, in collaboration with two consortium partners – Saudi Services for Electro Mechanic Works in KSA and Orascom Construction in Egypt. The HVDC interconnection will transport up to 3,000 MW of electricity at 500 kV along 1,350 km using overhead power lines and a subsea cable across the Red Sea. The HVDC link will give Egypt access to the interconnected power grids of the Arabian Gulf, and KSA access to those of North Africa.