Published: 04 October 2021

04 October 2021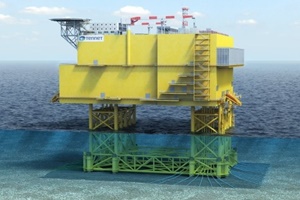 TenneT has developed a new 2GW standard to be able to accelerate offshore wind deployment. TenneT will now start the tender of the stations (Platform & HVDC system) of the Dutch IJmuiden Ver projects.
With this tender, TenneT enters the next phase for the 2GW projects in the IJmuiden Ver wind area. It is expected that this contract will be awarded by the end of 2022. Recently the engineering for the land station was tendered and the tender for the cable contract will follow later this year. The first 2GW IJmuiden Ver connection is planned to be operational in 2028.
The new transmission standard supports the essential next step towards larger offshore wind farms and a North Sea wide European Hub-and-Spoke system combining wind power connection, coupling of energy markets through interconnection and smart integration into the main onshore grids. As part of this development, the Dutch IJmuiden Ver projects will be hub ready to connect a future multi-purpose interconnector (WindConnector) to the UK.