Published: 27 September 2022

27 September 2022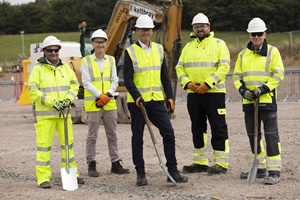 Work has started on the convertor station for the third phase of the Dogger Bank Wind Farm. Tier one contractor Hitachi Energy and civil engineering sub-contractor Keltbray will construct the convertor station on the Sembcorp complex near Lazenby in Teesside.
Dogger Bank Wind Farm is being built in the North Sea more than 130km from the Yorkshire coast in three phases known as Dogger Bank A, B and C. Dogger Bank A and B phases will connect to the national grid near Beverley in East Riding of Yorkshire, while Dogger Bank C will connect to the grid near Redcar, in Teesside. t will be the first HVDC connected wind farm in the UK. Hitachi Energy is supplying the HVDC systems to connect the wind farm to the national grid at Creyke Beck in East Riding and Lackenby near Redcar. Each phase of the project will have both an offshore and onshore convertor station to facilitate efficient transmission of renewable energy via HVDC subsea and onshore underground HVDC and HVAC cables. The two convertor stations in East Riding of Yorkshire are currently under construction at the A1079 site between Beverley and Cottingham.