Published: 19 September 2023

19 September 2023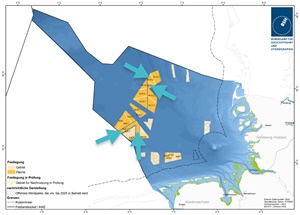 The Fraunhofer Institute for Wind Energy Systems IWES has been contracted by the Federal Maritime and Hydrographic Agency of Germany (BSH) to carry out a preliminary meteorological investigation in the North Sea as part of the area development plan.
Two Fraunhofer IWES wind lidar buoys (light detection and ranging buoys) will be deployed on each of the N-13 and N-21 sites in the German Bight for a 12-month measurement campaign. The buoys will record both meteorological and oceanographic data, which will then be processed, evaluated, and complemented by data reports. The measurement results of wind conditions will contribute to an efficient and economic design of future offshore wind farms.
© Federal Maritime and Hydrographic Agency of Germany