Published: 05 June 2020

05 June 2020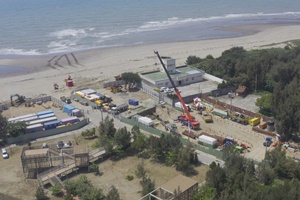 Jan De Nul has kicked off construction works in Taiwan for the Formosa 2 Offshore Wind Farm. Nearshore and onshore construction works in Taiwan have started at the landfall site in Miaoli County and Taichung port.
Offshore installation works will commence later this year. At the landfall site in Miaoli County, the nearshore pre-trenching works and Horizontal Directional Drilling (HDD) from shore have commenced. In total, four HDDs will be drilled at the landfall site. Meanwhile in Taichung, 50 kilometers to the South, onshore preparations works are well under way with Hung Hua Construction preparing the storage area for pin piles and jackets arriving later this year. Once fully constructed, Formosa 2 will utilise 47 8MW turbines generating 376MW.