Published: 02 June 2021

02 June 2021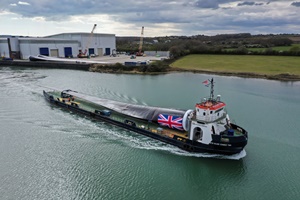 Of the 114 V164 blade sets to be installed at the 1,075 MW Seagreen project, 99 blade sets, or 297 blades in total, will be produced by Vestas in the UK for installation off the Angus coast by the end of 2022.
Production by Vestas is currently underway for the Seagreen project at its blade factory and R&D centre on the Isle of Wight. The V164 offshore wind blades are first produced at Vestas' facility in Newport on the Isle of Wight, then painted and finished at Vestas' painting and logistics facility plant in Fawley, Hampshire. The 1,075MW Seagreen project is currently under construction and is located 27km off the coast of Scotland in the North Sea's Firth of Forth. It is a £3bn joint venture project between TotalEnergies (51%) and SSE Renewables (49%).