Published: 30 May 2022

30 May 2022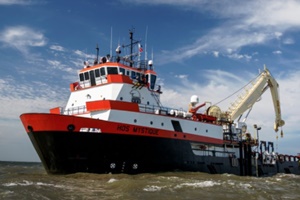 Vineyard Wind has announced a partnership with ThayerMahan for seabed and infrastructure survey and inspection work in the waters off southern Massachusetts, USA.
These operations are being conducted from the host vessel – HOS Mystique – with mobilisation and demobilisations being conducted from Gateway Terminal's Montville facility at Horton Point. The HOS Mystique will have an Offshore Fishery Liaison (OFL) on board to help communicate with commercial fishermen working in the area, in addition to support from the Chicawa, a local fishing vessel that is employed by Vineyard Wind to help survey vessels avoid fixed gear and reduce potential gear entanglement. Based in Groton, CT, ThayerMahan, specialises in seabed surveys, acoustic mitigation and monitoring, and other maritime related services and has facilities in Connecticut and Massachusetts.