Published: 25 May 2022

25 May 2022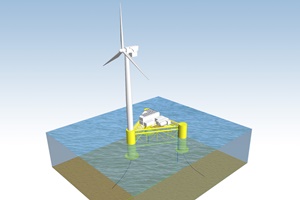 Offshore Design Engineering (ODE) has been selected by ERM Dolphyn to provide topside Front End Engineering Design (FEED) support to the commercial demonstration phase of the ERM Dolphyn (Deepwater Offshore Local HYdrogeN) project.
The ERM Dolphyn project seeks to produce green hydrogen at scale by utilising moored floating substructures; each moored structure hosts an offshore wind turbine and localised hydrogen production facilities, producing hydrogen from seawater with offshore wind as its energy source. ODE is responsible for FEED engineering for the topside equipment, export pipeline and facility design. The FEED support delivered by ODE and its consortium members including Tractabel and Vestas will facilitate the construction and operation of a 10MW ERM Dolphyn demonstration unit in UK waters by summer 2025.