Published: 18 May 2023

18 May 2023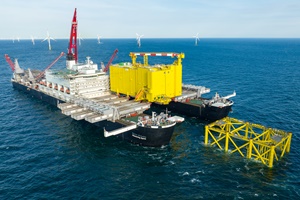 TenneT has signed multi-year framework agreements with Allseas and Heerema Marine Contractors for transport and installation of at least fourteen 2 gigawatt (2GW) offshore platforms. The fourteen 2GW converter stations will be installed in the Dutch and German parts of the North Sea.
The framework agreement covers at least twenty-eight slots until 2031; fourteen slots for transport and installation of a jacket and fourteen slots for transport and installation of a topside. Heerema will deploy the Semi-Submersible Crane Vessel (SSCV) Sleipnir as well as an owned floatover barge, Allseas will use its single-lift installation vessel Pioneering Spirit for the installation of the jackets and topsides. Heerema has been awarded about 60% of the available slots, while Allseas has been awarded approximately 40% of the slots. Slots for future projects after 2031 can also be added to the awarded contracts. The awarded slots are not linked to specific 2 GW projects.
The HVDC suppliers building the jackets and topsides for TenneT (Hitachi Energy/Petrofac, GE/Sembcorp, GE/McDermott and Siemens/Dragados) can choose from the suppliers whereby Heerema and Allseas can install both jackets and topsides.