Published: 16 December 2021

16 December 2021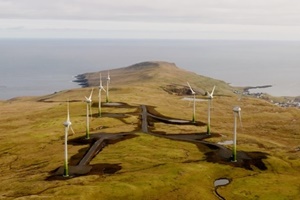 Hitachi Energyhas announced that SEV, the power company serving the Faroe Islands, has selected an e-mesh PowerStore Battery Energy Storage (BESS) solution as part of its efforts to achieve energy independence based on 100 percent renewable generation by 2030.
SEV has selected a BESS solution rated at 6 MW / 7.5 MWh for a new project integrating the 6.3 MW Porkeri Wind Farm into the local grid of the southernmost island, Suðuroy. The Porkeri site is the first wind farm on Suðuroy and part of a project expected to produce 20 GWh of energy. SEV is the main power supplier in the Faroe Islands, operating on 17 of the 18 islands of the archipelago. Isolated in the North Atlantic Ocean and home to more than 50,000 people, the rocky, volcanic islands have no choice but to be self-sufficient in terms of electricity generation as the Faroese electrical grid is not interconnected to neighbouring countries.