Published: 29 April 2020

29 April 2020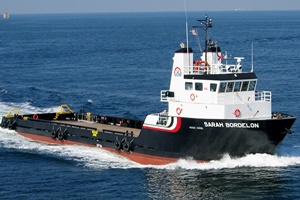 Dominion Energy and its contractors remain on track to ensure the Coastal Virginia Offshore Wind (CVOW) project remains on schedule. Two vessels – the M/V Sarah Bordelon and M/V Marcelle Bordelon contracted through TerraSond – earlier this month started geophysical studies in the 112,800-acre project lease area, 27 miles off the coast of Virginia Beach where the 2,600MW project will be built beginning in 2024.
These surveys will provide the company with the geological, biological, and oceanographic data needed to support planning and construction in a manner that facilitates coexistence between the natural marine ecosystem and clean energy development. Ultimately, this data will support preparation of the project's Construction and Operations Plan to be submitted to the Bureau of Ocean Energy Management (BOEM) later this year. The survey vessels will be equipped with hull mounted and towed equipment to collect geophysical data, while additional equipment will be deployed later this summer at specific locations to conduct seafloor sampling.