Published: 29 August 2018

29 August 2018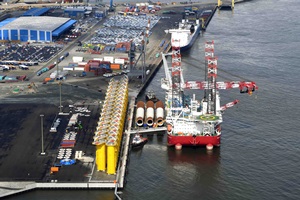 Berth no. 4 at the Cuxport Terminal in Cuxhaven is supporting Balance of Plant contractor Van Oord at the new heavy-lift berth with a total capacity of 8.5 hectares of space. This is being used to store and tranship the monopiles and transition pieces for the Deutsche Bucht wind farm.
31 transition pieces for the wind farm have already been supplied to Cuxhaven from Spain on board the "Happy Star" heavy-lift vessel. 31 monopiles, each weighing around 1,100 tonnes, are being transported by barge from Rostock to Cuxhaven just in sequence and directly lifted from the barges to the installation vessel that is jacked up in front of berth no. 4. The jack-up vessel will then also load-out the transition pieces from the terminal and start her journey from Cuxhaven to the offshore construction site. Rhenus Offshore Logistics takes on the function as port agent for the project, including the customs clearance and the crew changes. The Deutsche Bucht wind farm will have a capacity of 269MW and is located about 95 kilometres northwest of the island of Borkum in the German Exclusive Economic Zone. Van Oord is responsible for the design, engineering, procurement, construction and installation of the foundations, inter array cables and offshore substation, and the transport of the wind turbines. MHI Vestas is handling the installation of the turbines.