Published: 30 April 2019

30 April 2019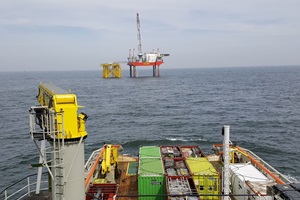 Rhenus Offshore Logistics has completed the first supply trip to the Borssele Alpha offshore platform. Rhenus has taken over the complete supply logistics for its customer, HSM Offshore, during the installation work on the Borssele project and is supplying the Borssele Alpha offshore platform with building materials and tools as well as water, food and articles in daily use.
Rhenus is providing all the logistics services that are required for the project, including the supply trips, handling at the port, customs clearance and waste disposal. Rhenus is also operating its own depot for offshore containers, which are made available for the project, at the offshore base port in Rotterdam, the Netherlands. The Borssele wind park is currently being built in water that is between 14 and 38 metres deep in the Dutch Exclusive Economic Zone in the North Sea, approximately 20 kilometres off the coast of Zeeland. It will have an overall generating capacity of 1,400MW.