Published: 05 April 2019

05 April 2019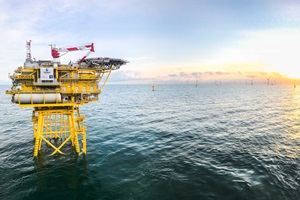 Van Oord has completed the installation of the offshore substation at the 269MW Northland Power's Deutsche Bucht offshore wind farm in Germany`s Exclusive Economic Zone. The substation with a 2,700-tonnes topside houses all electrical equipment needed to transform the power from the 33 turbines to a higher voltage for further transmission.
The unmanned offshore substation consists of an upper part, the topside, and a lower part, the jacket foundation. The two components were assembled in Vlissingen, the Netherlands, and transported to the project site on floating barges. After the 61- metre -high jacket was installed on the seabed, the 19 -metre -high topside was lifted and mounted on top of it. The top deck of the offshore substation reaches to approximately 40 metres above the sea level. A helicopter landing platform allows access to the platform for operation and maintenance work.
Construction of the Deutsche Bucht offshore wind farm, owned by Canadian-based global power producer Northland Power, is in full swing. As the balance of plant contractor for the project, Van Oord is responsible for the design, engineering, procurement, construction and installation of the foundations, inter array cables and offshore substation, and the transport of the wind turbines. Commissioning of the wind farm is expected to take place in the second half of 2019.